Welcome to the Hornet's Nest!

A true local experience.
Voted one of the best restaurants for steak, burgers, brunch and fried chicken in the greater Evansville, Indiana area!
A gathering place for both locals and travelers alike since the mid 1800's, the Hornet's Nest, an Evansville restaurant and bar experience, still offers exceptional hospitality and so much more. With an eclectic crowd of regulars, passersby, traveling foodies and families, as well as a booming nightlife, we have something for everyone. The menu ranges from tavern fare to carefully-crafted, chef-inspired specials, but there is nothing regular about an item that leaves their kitchen. Our dedication to provide the total experience is apparent, and the longstanding success of our establishment is proof of that.
We are located just several minutes from the airport. With a very long tradition as one the Tri-State's favorite restaurants, we operate under the phiosophy, "if you can dream it, we can do it." Come for the history and delicious food, stay for the ambiance – you won't be disappointed.
Brunch is not a meal.
Brunch is a competition.
And we're winning.
Voted The Best Brunch in Evansville!
Saturday 9am-noon
Sunday is from 9am-2pm
Love Hornet's Nest? Tell Us About It!

Google
My burger was cooked to perfection. The fries were large and really good. My wife's meal was good.as well. Good family atmosphere.
- Gene P.

YELP
Fantastic local joint. I was not a local but I was welcomed as one at the bar. Steak was great. It's a unique, welcoming, local place with good people, good food, and reasonable prices.
- B.R.

FACEBOOK
The food and service were awesome!! Best burgers we've had in the area!! Great value! Great food!
- Shelly C.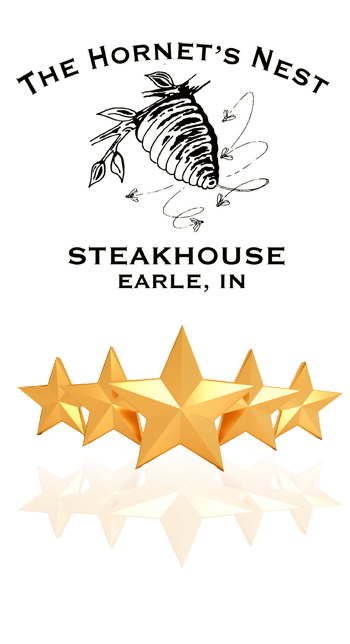 Trip Advisor
My wife and I carried out a delicious dinner this evening. We have always had great meals here from filets to hamburgers to fried chicken to pork chops to fish entrees, the menu is versatile and enjoyable!
- Benjamin U.

OPENTABLE
Awesome food, great service! Lots of beer choices and great hometown atmosphere.
- Dani

GROUPON
For a meal truly worth eating, the place to go is definitely Hornet's Nest Restaurant and Bar who serves up the mouthwatering best food in town.
- Editors